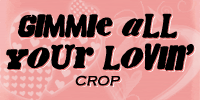 Come and join us the first weekend in February for a fun filled and love inspired crop!
GIMMIE ALL YOUR LOVIN' CROP!
Feb 2 & 3, 2013
We'll have a variety of fabulous challenges, some fun games and we'll be giving away some PRIZES too!
We hope to see you here!!!
In the
Let's Capture Our Memories
forum!